Coaching & Mentoring
A Coach is a magician of change who takes the cards you have and helps you to play your hand better, or sometimes to change the rules of the game, or find a better game...... Coaching engages your imagination....... It links the world of dreaming with the world of reality.
(O'Connor & Lages, 2004)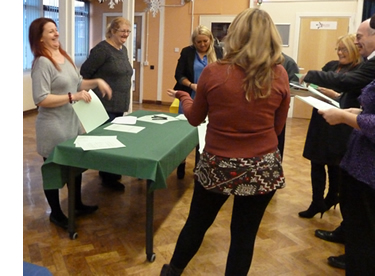 Coaching is a simple yet effective form of self development where you build up a powerful, trusting relationship with your coach to enable you to be the best you can be.

Coaching provides a challenging yet safe environment within which the coachee can embark on a journey of self-exploration.
Coaching focuses on what you want - your goal - and how to achieve it.
Coaching encourages you to know your values and live them in achieving your goals
Coaching challenges limiting beliefs and reinforces positive ones by giving tasks that provide feedback
Coaching provides a supportive framework where we can become free of the restraints we have imposed on ourselves. It's about reconnecting with ourselves, breaking down barriers, trusting our selves, but most of all believing in ourselves to not only achieve what we want to achieve but also to take control of our lives and futures.

Coaching is a process that helps us move away from where they are now to where we want to be.


Coaching in the Workplace
Coaching is fast becoming the preferred management style in many organisations. It is about developing talent in others rather than telling people what to do. Managers with coaching skills encourage others to think and act for themselves and therefore become more productive.
Group Coaching
Group coaching is about coaching people to feel connected within a group. It is widely accepted that people who feel connected within a group or organisation work harder and stay longer because they feel good about themselves, their place in the company, and in the world
Life Coaching
A Life Coach focuses on the client's life in all it's dimensions e.g. health and lifestyle, relationships, career, social life, finances, children and so on. A life coach will coach clients to live the best life they can possibly live by coaching them to become more aware of what they want out of life, and how to get there.
Benefits of Coaching
The benefits of coaching are vast and varied!
Personal Benefits:
increased self awareness of all aspects of oneself
improved self esteem and clarity, sense of choice
sense of owning one's true power of self determination
a truer picture of own strengths and weaknesses
the ability to own appropriate responsibility
knowledge of one's values, goal and aspirations
aligning to one's true purpose in life
the ability to take decisive action
the expansion of one's comfort zones
resolution of communication difficulties
celebration of success, and learning and perseverance through any setbacks!
Within the Workplace:
increased individual performance
higher motivation and commitment
better leadership skills
personal growth
higher quality of life / work - life balance
clarity in purpose and meaning
better management of change processes
improved communication and relationships
efficient implementation of acquired skills
a sustainable form of personal development.
The list goes on .....................
At Innovate Volunteering, we coach individuals, families, and organisations to reach their full potential and achieve what they want to achieve. For further information and prices, please contact us
[The training] was really good and interesting... lots of new things that I learnt which has helped me bring myself on, helped me bring my confidence on